The Plzen coat-of-arms
---
The city coat-of-arms is unusually complex and its symbols express the historical development of the city from its foundation up to 1578.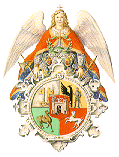 The city's original coat-of-arms was a silver greyhound in a red field, introduced by the burgesses at the time of the Hussite wars in order to emphasize their loyalty.
In 1434, in memory of their deeds under the last siege by the Hussites, they received a golden camel in a green field from Zikmund of Luxembourg.
In 1466 Pope Paul II enlarged the shield by two golden keys in a silver field and an armour-bearer holding half a spread-eagle in a golden field.
At that time the people of Plzen themselves put a picture on the shield of the oldest Plzen seal, i. e. the silver city gate in a red field, in which stands King Wenceslas II, a sword drawn in his right hand, and in his left a shield with the Czech lion. On the city wall there stands a bare-headed maiden holding two flags: the one in her right hand showing the Czech lion and in the left the Moravian eagle.
The Plzen coat-of-arms received its final addition in 1578 from Pope Gregory XIII - a shield-bearer which was an angel and three mounds with sprigs of olive and the inscription: "In hoc signo vinces" (In this sign shalt you conquer). In each corner there were two helmets and behind the shield a crossed halberd and commander's baton.
On the document of Pope Gregory XIII, now kept in the city archives, the Plzen coat-of-arms is for the first time illustrated in colour.
---
This page is available in both English

and Czech

versions.
---
[ Plzen | Centre | Guide | Landmarks | Underground | History | Film | Events ] ... [ University ]
---
Milos Wimmer,
May 1997
Copyright © 2002 City of Plzen. All Rights Reserved.